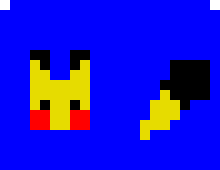 Pikachu I choose you!
Holiday Capes
7 Downloads
Created by

LeafeonGam3r
---
Official capes are not currently available on Pocket Edition or Java Edition without visiting MineCon.
The only way to use a cape in Java Edition is with a mod. Visit
MinecraftCapes.co.uk
in order to apply this cape to Minecraft Java Edition.